Scapa Healthcare Starts Construction on New Medical Device Manufacturing Facility in Knoxville, TN
21 Mar, 2018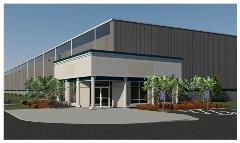 Windsor, CT – March 21, 2018
–
Scapa Healthcare
, a trusted strategic outsource partner of skin-friendly, turnkey solutions for advanced wound care, medical device and consumer wellness markets, is breaking ground on a new built-for-purpose medical device manufacturing facility in Knox County, Tennessee this month. Once complete, the 152,000-square-foot facility will double Scapa Healthcare's footprint in the area and integrate the company's three Knoxville buildings into a single site of operations, allowing for greater operational efficiency through proximity and scale. The new campus will be located six miles or roughly fifteen minutes away from Scapa Healthcare's current location in Knoxville, TN. The new facility is projected to increase Scapa Healthcare's employment opportunities in Knox County by about 20 percent.
The new facility is strategically designed for efficient workflow and materials movement across the cleanroom, printing, packaging and warehouse departments. The layout creates ample development space to accommodate increasing demand for medical device manufacturing.
"Scapa Healthcare is significantly committed to the region, strengthening growth and job creation within the community," said Joe Davin, President Scapa Healthcare. "We are excited to bring all of our Knoxville operations together under one roof to meet increased market demand and to continue providing our customers with innovative solutions for the medical device market."
A groundbreaking ceremony, open to the public, will be held in conjunction with the Knoxville Chamber of Commerce on Thursday, March 22nd at 10 AM at the building site in Hardin Business Park. Registration for the ceremony is available
here
. Construction is expected to be completed in November 2018.
About Scapa Healthcare
Scapa Healthcare is a global trusted strategic outsource partner of skin-friendly turnkey solutions for advanced wound care, consumer wellness and medical device markets. Scapa Healthcare partners with market leaders to design, develop, manufacture and commercialize innovative skin contact solutions to meet end-user needs. Scapa Healthcare offers turn-key development services, including design and project management; coating; converting, perforation and assembly; printing and packaging; and sterilization services. For more information, visit:
www.scapahealthcare.com
Media Contact
Scapa Healthcare

healthcare@scapa.com